March 2013 Volume 10, Issue 1 version 134 03/15/2013

T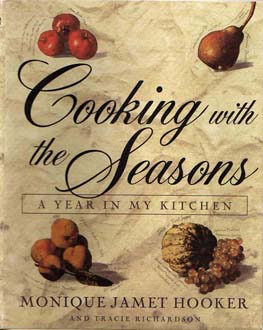 he Second Edition of
Cooking with the Seasons; A Year in My Kitchen
has been published in paperback by Bounty Press.
$25 plus shipping
Click on the book cover to order.
Celebrating 47 years of teaching
My students have taught me as much as I have taught them since my first class in New York in 1966. I have enjoyed their enthusiasm and camaraderie as they learn and share in preparing every kind of food. I hear from many, who still use the recipes they have cherished for years. Here in the hills and valleys of southwestern Wisconsin I continue the same tradition that took me from New York to Chicago to here. I use locally grown organic foods whenever possible. I joyfully cook the way I learned, close to the seasonal foods, with the bonus that here they are mostly organic and locally grown. My goal is for you to connect to the land through food by cooking with all your senses.
Events

Links:
Sincerely, Monique