Spider John Koerner Biography
SPIDER JOHN KOERNER was born August 31, 1938, in Rochester, N.Y. At the age of 15, he was one of the youngest to ever get a student glider pilot license. He enrolled in 1956 at the University of Minnesota as an engineering student, but in early 1958, he became a student of the burgeoning folk scene. With a borrowed guitar and a Burl Ives song book, he began a journey which helped shape the course of American country blues and folk music.
For 50 years, John Koerner has explored the ranges of traditional American song, as a solo artist and with a variety of partners. All of his 1960's recordings are reissued on CD: Blues, Rags and Hollers; Lots More Blues Rags and Hollers; and The Return of Koerner, Ray & Glover, (cornerstones of the blues revivalist era, recorded with Dave Ray and Tony Glover), and Running, Jumping, Standing Still, (a blend of jug band, psychedelic R&B and folk-blues, with (Willie Murphy). Two 1970s albums recorded on Dave Ray's Sweet Jane label, Music Is Just A Bunch Of Notes and Some American Folk Songs Like They Used To are now collector's items. His 1986 recording Nobody Knows The Trouble I've Been and the 1992 raised by humans, both with Boston's "Mr. Bones" John Burrill, and others, reflect Koerner's deep appreciation of the traditional song. StarGeezer, recorded in New Orleans, adds the Louisiana sounds of Reggie Houston, Amasa Miller and Johnny Vidacovich with 'Chip' Taylor Smith (NKTTIB & rbh) and Willie Murphy (Producer) (R,J,SS). In a moving rendition, Koerner also covers Hoagy Carmichael's Stardust on StarGeezer. Koerner reunited with Ray and Glover in 1996 for One Foot in The Groove, the legendary trio's first recording together in 30 years. John Koerner is featured in Part 1(of 4) in the PBS Educational Series RIVER OF SONG which premiered Jan.6, 1999. This production includes a seven part series on Public Radio International; a companion book by St. Martin's Press, a 2 CD set from Smithsonian Folkways Recordings and a home video series from Acorn Media. In the fall of 1999, he recorded two tracks with the jug band sound of the Liquor Pigs, with Tim Bradach (FYTAD), and one track in 2000 with Norwegian artist Ole Ask. In a salute to the traditional roots of Bob Dylan, John Koerner and Dave Ray contributed the track Delia to the Redhouse tribute recording A Nod to Bob released in April 2001 for Dylan's 60th birthday.
SPIDER JOHN KOERNER'S musical career has taken him to stages throughout North America and Europe. He has entertained MANY and influenced several generations of musicians.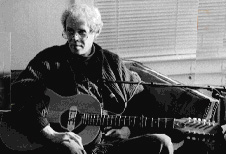 His songs are recorded and performed by others, including Bonnie Rait-- I Ain't Blue.
John Koerner appears often as guest on Garrison Keillor's Prairie Home Companion, most recently appearing on November 15, 2008. He has also been guest artist on National Public Radio's Morning Edition and Weekend Edition.
In the '70s, John Koerner also ventured into film making, and a commentary on how some folks were feeling in the '60s called The Secret Of Sleep was produced. He also discovered a passion for astronomy, which continues to this day. He has built and reconstructed telescopes in New England, Minnesota, Mexico, Arizona, and Zimbabwe, lectured at colleges, and presented "Spider John's Space Shows". He is also interested in wooden boat building and sail design and has completed construction of an 18 ft. cat boat, which he sails on the Minnesota lakes.
Spider John lives in Minneapolis. He has two sons and a daughter, and grandkids.
SPIDER JOHN KOERNER IS ONE OF AMERICA'S TRUEST MUSICAL ORIGINALS AND ONE OF THE GREATEST PRACTITIONERS OF THE TRADITIONAL SONG.
Original text by Jan Cornish, edited by lmk.
memory: when asked if he grew up with music in the house, this is what John said he remembered!