Spider John Koerner with Ol'folkie Jim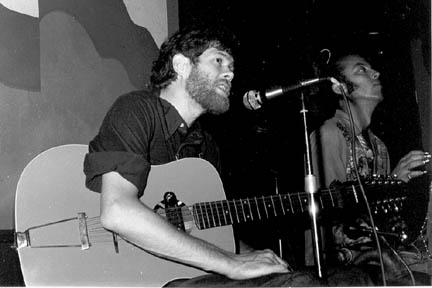 "Bill Pope placed microphones at the foot of the stage and recorded the show using a reel-to-reel tape recorder. Spider John had completely given up playing music and moved Denmark in 1972. After a couple years he picked up the guitar and once again began to play but with a folkier style. While John had been playing this folk music around Europe he had not yet played it in North America. This photograph (one of several) record what I believe to be the first time Spider John played his new style folk music in the United States. It was an early August evening in Cambridge, at the popular "Jack's Bar" and there was standing room only. Bonnie Raitt, Reeve Little and many others from the Boston-Cambridge music scene of that time were there. Everyone was eagerly looking forward to hearing Spider John play again, expecting to hear the old familiar Spider John blues sound. Certainly there were a few who liked what they heard that night but there were others who were disappointed. After about two or three folk tunes, several in attendance began to call out for John to play the blues and at the break some of John's fans asked me to get John to quit playing that "shit" and play the blues again. As far as I can tell, John has never even considered doing that. The following night, we played at Club Passim, live on Harvard Radio." (Ol'Folkie Jim)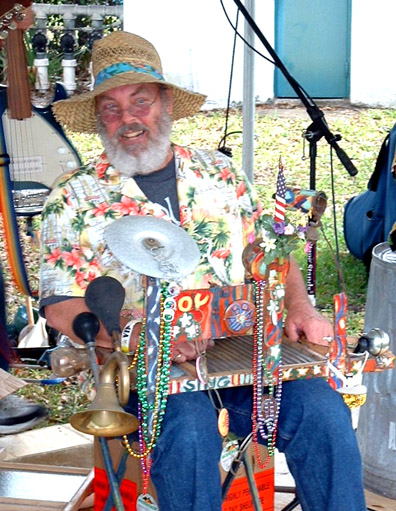 Ol'folkie Jim with "Band Aid" in his Washboard Workshop at the 13th Annual South Florida Folk Festival, Ft. Lauderdale, on Saturday, January 17, '04. Not in the photo but playing with Ol'folkie Jim & Band Aid was Freebo, Gary Zimmerman & The Solares Hill String Band, Dave Grooms, Carl & Barbara Wade, Captain Bucket on washtub bass and several others. John Brown took the photo.
Click to watch: Olífolkie Jim Higgins & His Washboard Band Aid (hit the 'back' button to get back here)
"I learned to bath myself in a concrete stationary tub with a built in washboard. I knew then that the washboard was my destiny; it just took several years for me to figure what to do with it. Not being from a musical family I thought that it was just for washing my hair or scrubbing my finger nails. It was not until 1967 when I dropped out of college and was hiking around England that I discovered my musical affinity for the íboard. In Londonís Hyde Park I met a Clown who told me that there are no fools except for those who would try to make of others a fool. This is the code upon which I live. I travelled on down to Cornwall where I joined a group of English folkies who had a skiffel band, the English derivation of the jug band. One member of the group had been a fisherman and was known as John-the-Fish but at the time was making his way repairing typewriters, playing guitar and singing folk songs. Then there was Henry-O-the Jug and on washboard was Whispering Mick. They ran a coffeehouse in the 300 year old Folk Cottage, where we all met and played jug band music, I read my poetry to the accompaniment of Mickís washboard. By day I worked pulling spuds on a local farm. It was not the washboard but the pulling spuds that finally got to me, so I left. About this time I got a bit part in the movie Magical Mystery Tour. Then I went to Majorca and worked aboard a 102 year old sailing freighter, though after I learned about jug band music nothing seemed the same me.
"Back home again, I remembered John-the-Fish and how much fun we all had with the music. I figured that I could do as good in "The Colonies", USA, if I could learn to play the guitar. A girlfriend of mine, known to me only as Big Murt, who did play guitar, tried to teach it to me. One day during a lesson, out of frustration, she said to me "Higgins, you canít learn to play the guitar. You ain't got no ear!" I decided right there that I would make an instrument I could play and to Hell with the ear. Of course that instrument was my own washboard. Itís been known by names such as 'Band X', 'Rubber Band', 'Beach Band', 'Banyan Road Rhythm Section', 'South Russell Street Rhythm Section' but the name thatís stuck is the original 'Band Aid'.
"Over the years Iíve had the pleasure of playing at festivals and concerts with The Grateful Dead, Tiny Tim, John Lee Hooker, Gamble Rogers, Bonnie Raitt, The Province Town Jug & Marching Band, The Philladelphia Jug Band and Iíve met and played with so many wonderful friends all over, from Maine through Mexico. Through the early 1970s, while going to college in Boston, Massachusetts, I worked for the Mayors Office of Cultural Affairs teaching children in underprivileged neighborhoods how to make music with objects from their neighborhood. Then we put together groups of kids and took them to hospitals, reform schools, old folkís homes and where ever people were shut in and we played jug band music for them. Mine was a signature program for that city office and I was featured on several TV shows.
"One night during this period I walked into Jackís Bar in Cambridge, the legendary Spider John Koerner was playing there and I asked him if I could sit in with him. For the next two years I traveled and played with Spider John all around New England. This friendship has lasted a lifetime.
"As a result of all that has happened, because of the washboard, I have made friends in the folk music world where ever I have traveled. Now, I live in Deerfield Beach and I book folk and blues artists into clubs and festivals through out my home State of Florida."
James "Olífolkie Jim" Higgins
Booking Folk Music in Florida
telephone 954.425.7060
LINKS

updated February 28, 2011
WEBSPINNER